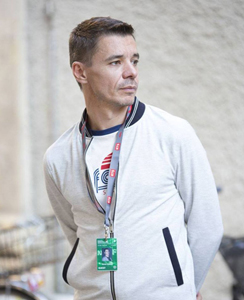 Olivier Chateau was born in the Greater Paris area. He quickly stops his studies to dedicate himself to his passion : cinema. Right away, he wants to be a filmmaker. Olivier starts out as an assistant and location manager on film shoots, to gain experience.
In November 1997, Olivier hires a 16mm camera, puts together a crew and shoots his first short film (he is also the writer and producer). It's a thriller in a single location. He is only 20 years old. Between 1997 and 2004, Olivier writes and shoots a series of short films. Some of the short films are broadcasted on French television, mentioned in magazine and receive festival accolades and prizes (notably a 'best direction' prize). Olivier's short films are original and diverse : comedy, drama, and live action.
Olivier's reputation as a hard-worker and technical perfectionist grows. He pushes his team to the maximum and best results possible. Olivier's career keeps growing…
He shoots his first feature film, « Asylum » (aka « I want to be a gangster »), at the age of 28. The film is a thriller, combining suspense and black comedy. This is a bold choice for French cinema and the unusual film benefits from tremendous word-of-mouth. It is released on theatres in France in April 2008, with  a lot of sell worlwide the next year.
Olivier keeps writing and directing whether for the television (commercials, short programms) or fiction (short films including 2 in the US, development of many projects for film or television).